Knife Sharpening Classes and Services
Japanese Whetstone Sharpening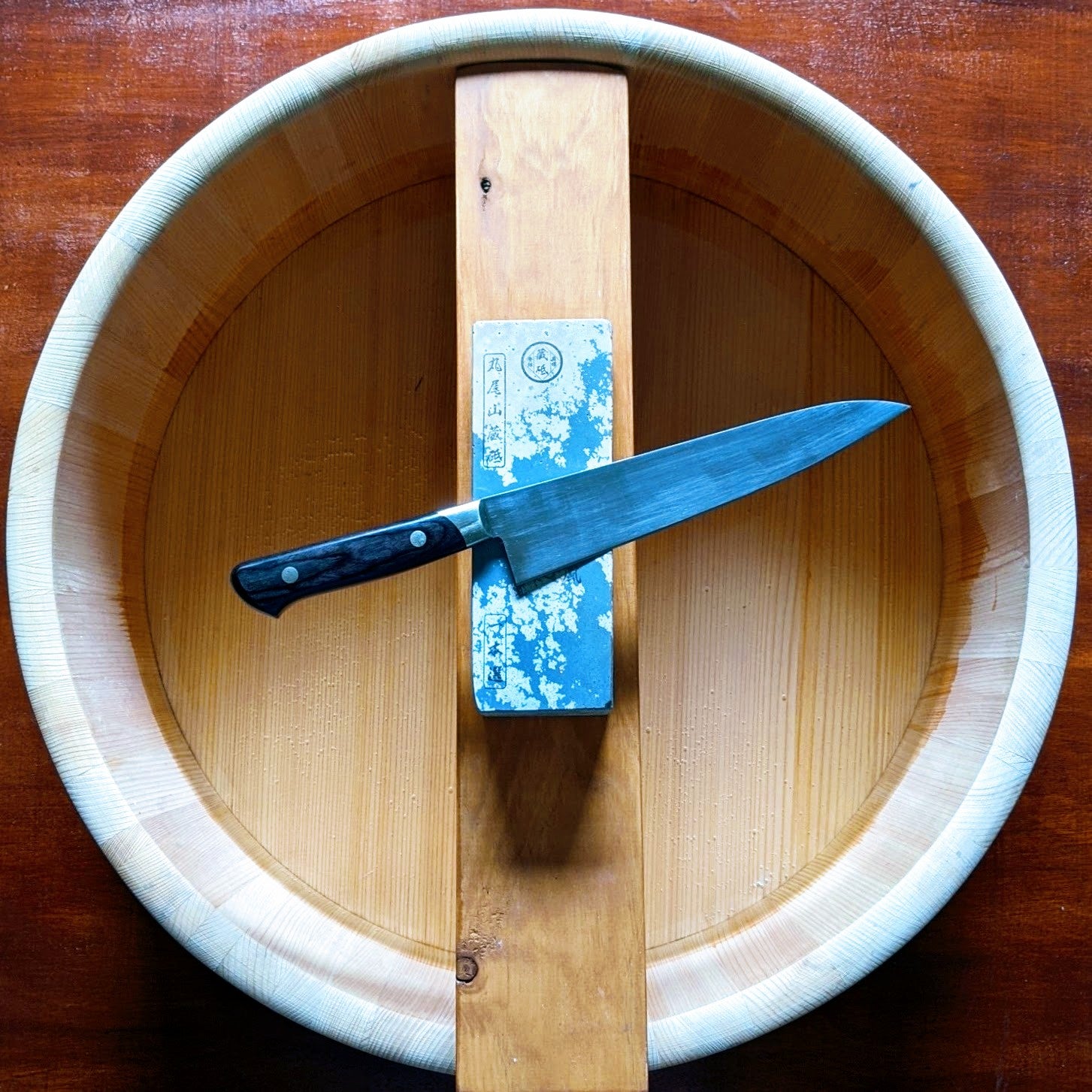 What is the free-hand whetstone sharpening method? It is one of the most preferred and popular methods in many industries including the culinary industry. Here are the reasons why we use this method as our main method of sharpening:
The least aggressive method - it creates an edge that is least susceptible to chipping damage, particularly beneficial for your knives made of quality steels.
No concerns of overheating your blade.
Very good control over the amount of steel to be removed.
Convex edge - superior to the other edges.
Less concerns from hazardous noise and dust.
Simple - no mechanical limitation.
Reliable - no need for electricity.
Very quick and easy - learn from us.
Meditative, therapeutic, and satisfying.
Quality Japanese whetstones - they make blades crazy sharp.
Our Way
Holistic Approach
We don't just put a cutting edge on your knives like many others do. We take a holistic approach to improve your knife performance.

The overall knife performance depends on the combination of sharp edge, straightness, thinness, geometry, profile, smoothness, types of steel, and more. We access these factors and bring out the best in your knives.

Fundamentals
Touch up, Sharpening, and Thinning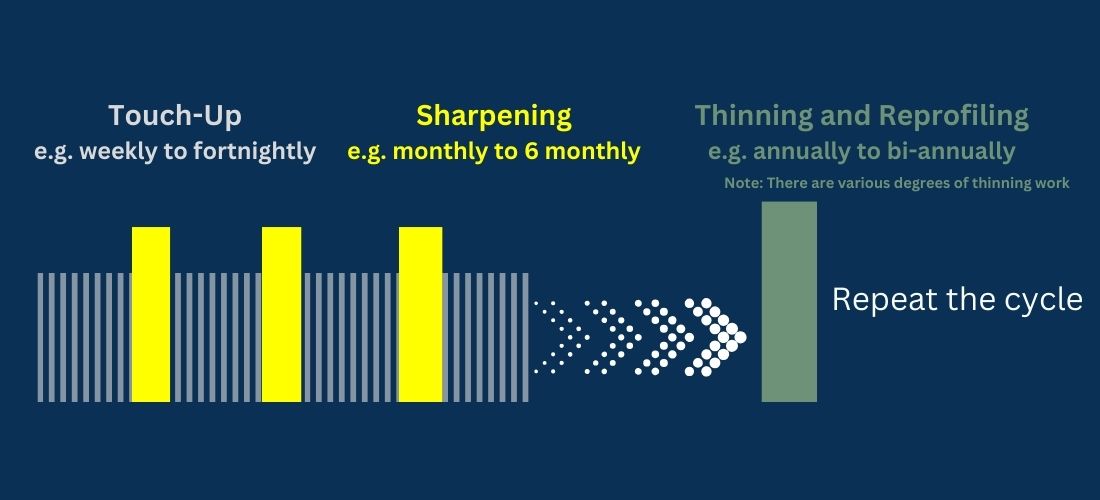 Knife Maintenance Cycle
Do 1-minute easy touch-ups at short intervals,
Do sharpening at medium intervals,
Do thinning at long intervals.
This will
minimise the cost of sharpening and
maximize the knife lifetime
while maintaining your knife sharpness and performance at its best.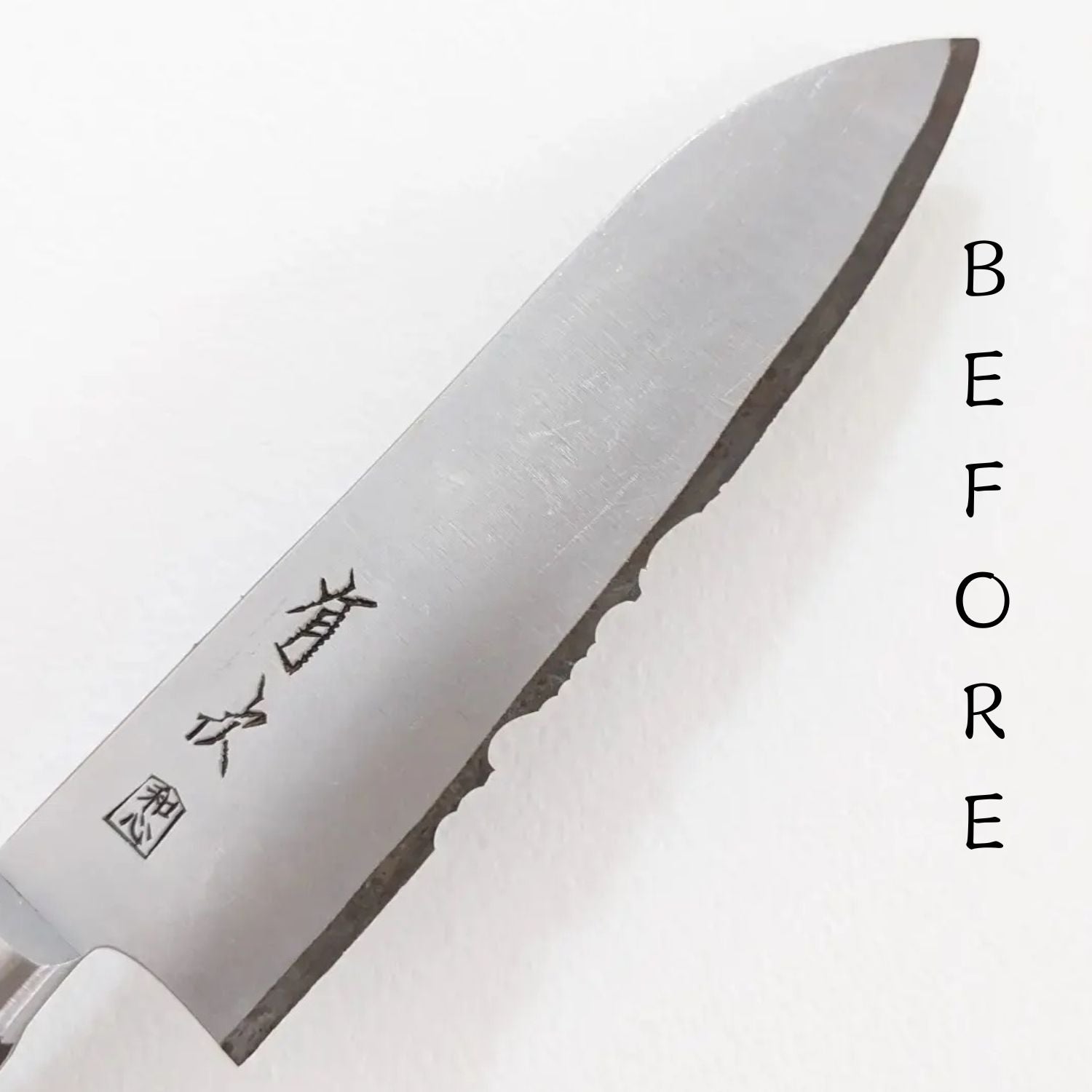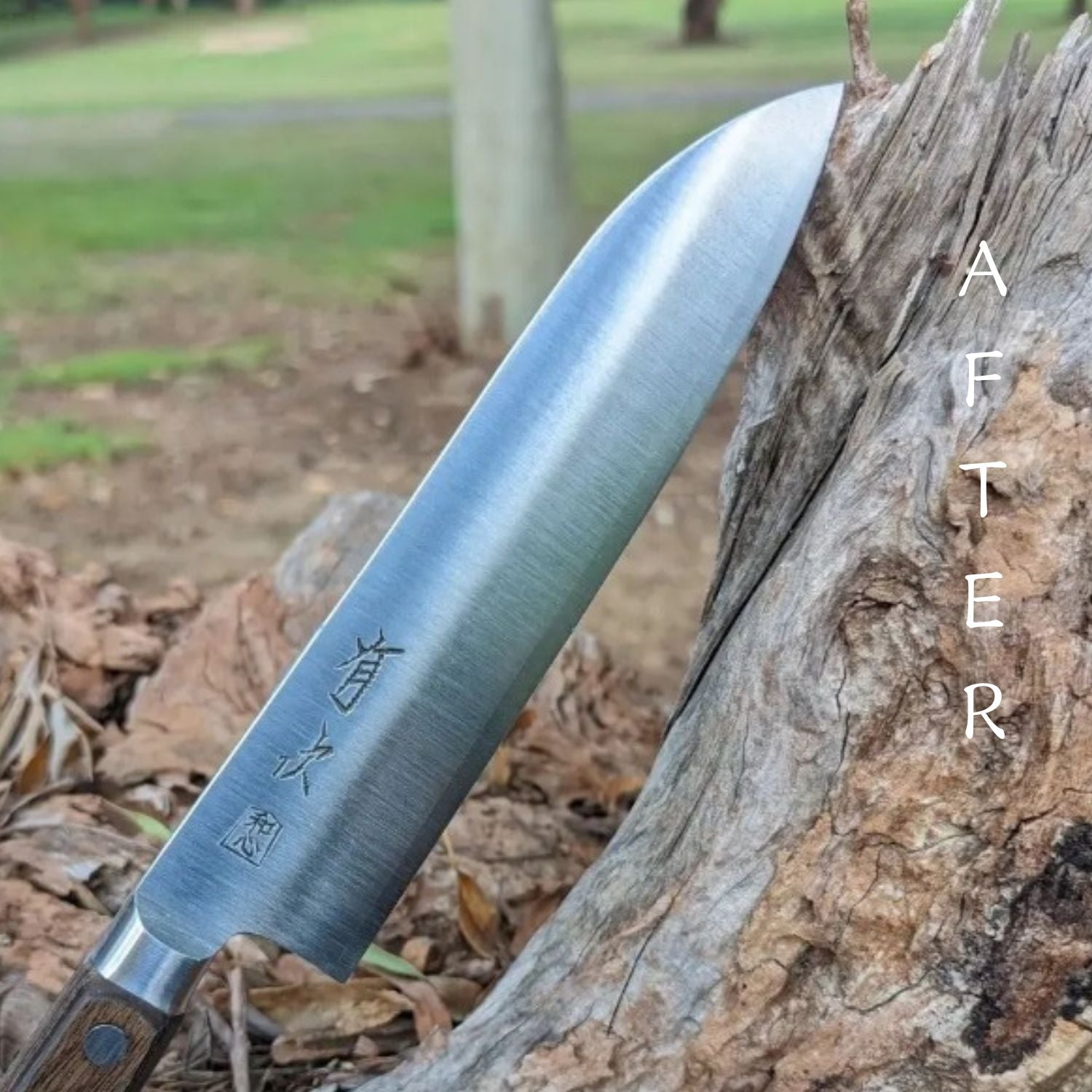 Regular Sharpening Prevents The Blade From Chipping
As soon as you start using a brand new knife, microscopic-level cracks and chips occur and grow due to fatigue. Generally speaking, knives made of quality steels for sharpness are more prone to chipping damage. They can end up being as large as the chips in the photo if the knife keeps being used and chips are not removed. There are other mechanisms in play, but regular touchups and sharpening on whetstones re-establish a new edge as well as remove microscopic damage.
Chips happen. Regardless why your knife was chipped, we can fix it for you.

Quickly learn
Under the Watchful Eye of an Expert

Discover
the Mesmerizing Beauty of Knife Sharpening
Say Sayonara to Dull Knives
Knife Sharpening Class
Touch Up and Sharpening Classes
Our Touch Up Class is about 45 min long and you will be able to temporarily restore the edge in a minute with a honing rod, whetstone, and strop. Our Sharpening Class is about 3.5 hr long and you will be able to re-create the edge with whetstones and a strop. You will be able to maintain and make your knives very sharp by yourself.
You Can Do It From Day One
It may look daunting and intimidating. Don't worry. You will work on knives under the watchful eye of an expert, so that any individual sharpening problems will be addressed. You will be able to touch up and sharpen by yourself by the end of the class. Learn our simple and proven way designed to work for almost anyone.
Theory component of workshop was very informative with good powerpoint presentation, making it easy to understand different knife types, materials and sharpening techniques. Practical component was easy for me to get a grasp of with Nari's excellent instruction. Nari has a pleasing and friendly manner making you feel comfortable and providing a good environment for learning. 10/10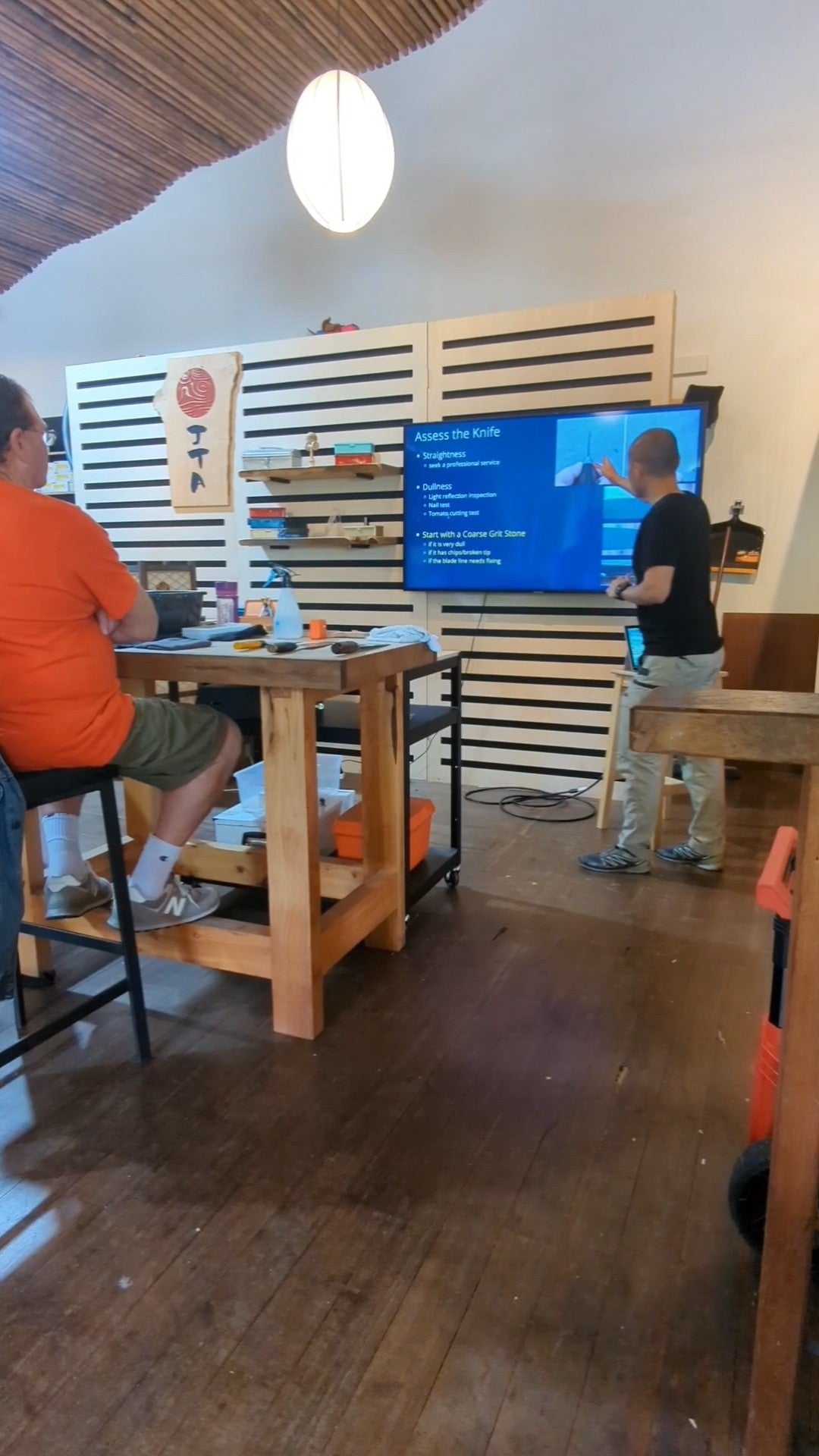 Shane / Apr 2023
The class with Nari was amazing! I learnt so much theoretical and practical knowledge and can sharpen my knives now myself. Highly recommend the course for any chef or home cook. Also, Nari took the time to explain everything and got sure I understand it as well.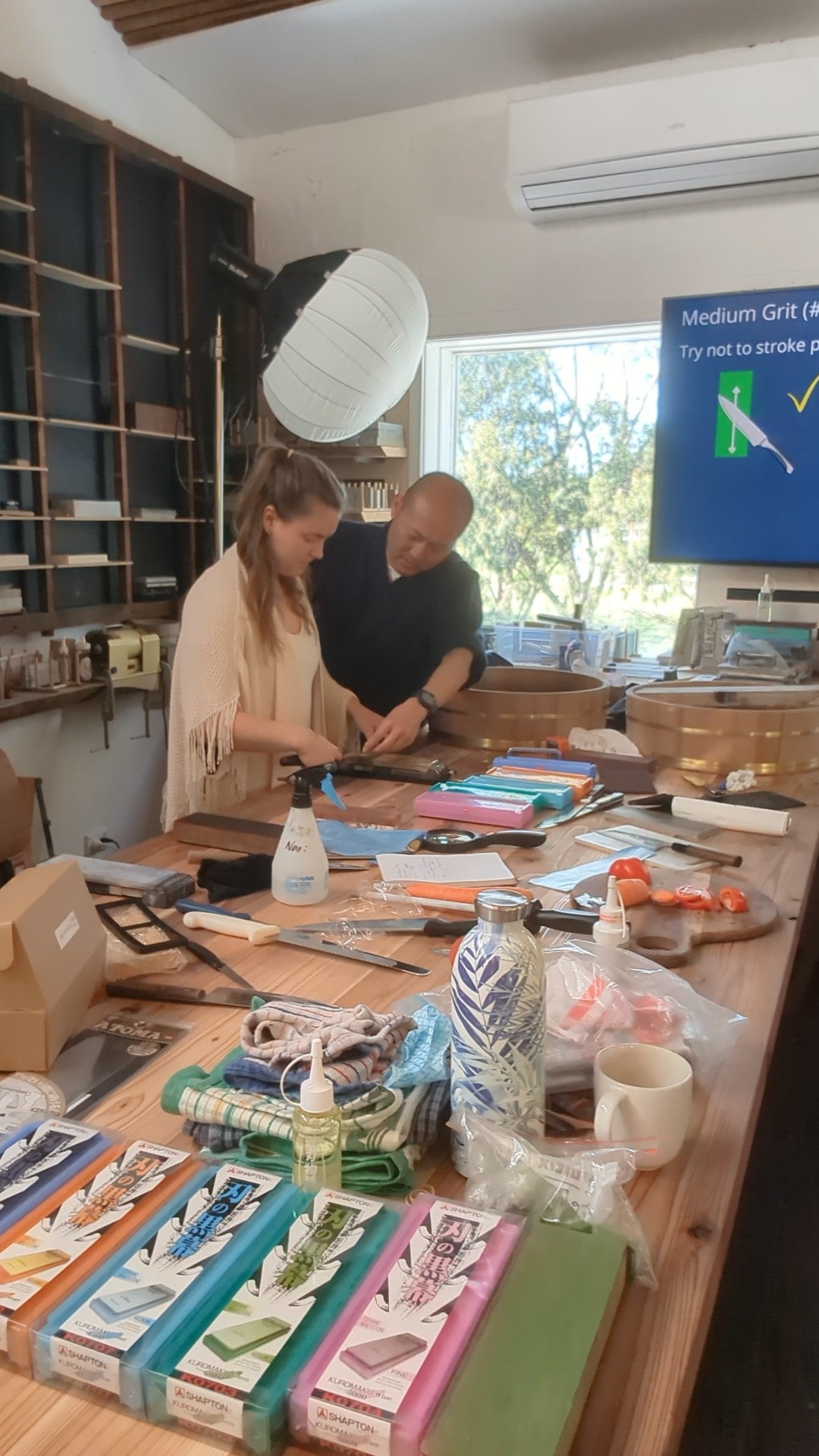 Michaela / Sep 2023
I've done Japanese knife sharpening classes before, but this was far better. The key thing is, it's a small class. Mine only had two other people so you get a personalized attention. He goes into the theory and then you get hands on with Nari-sensei's watching and guiding you. The whetstones were much better quality than my other class and you got much more time actually sharpening.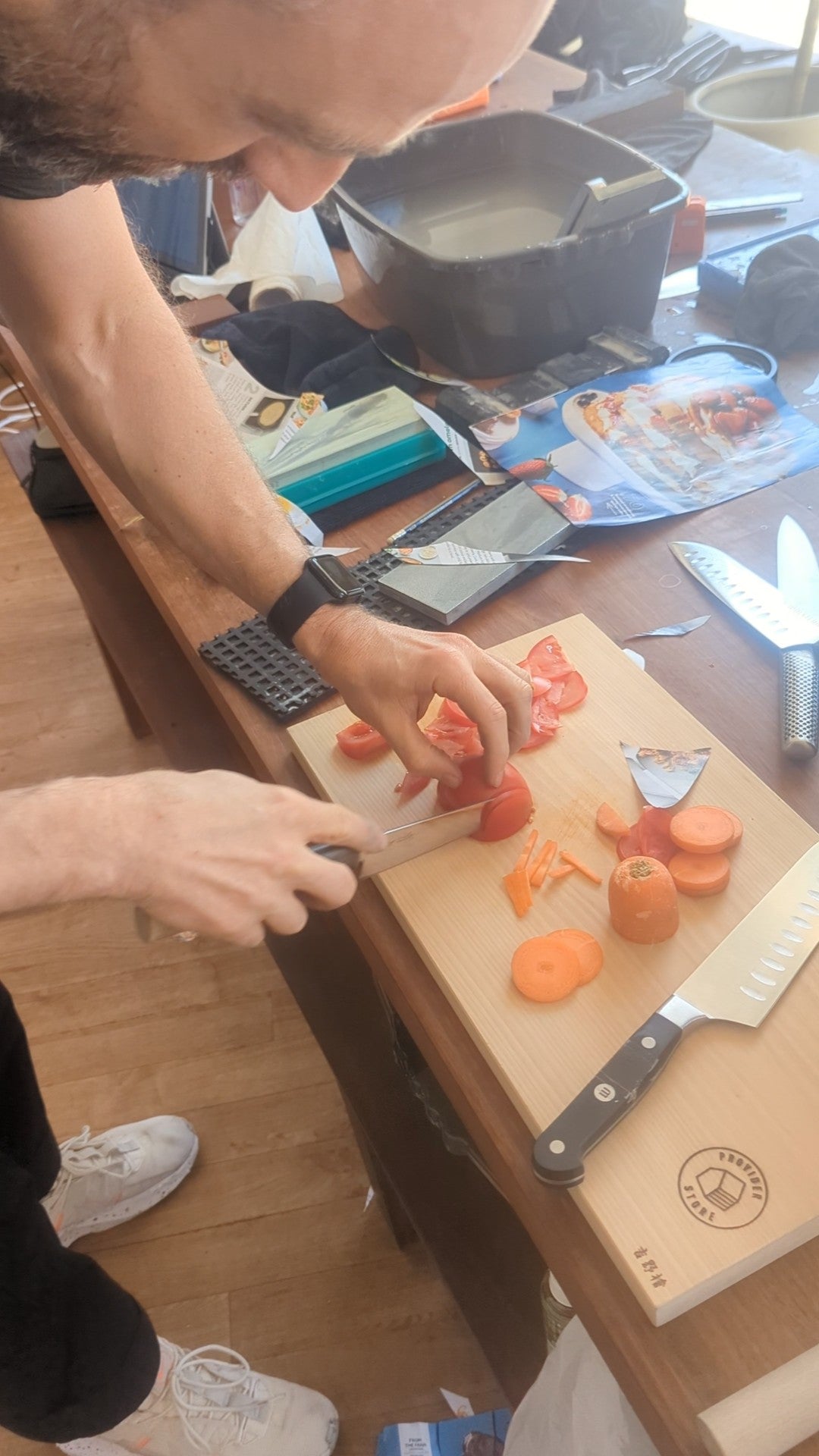 Daniel / Aug 2023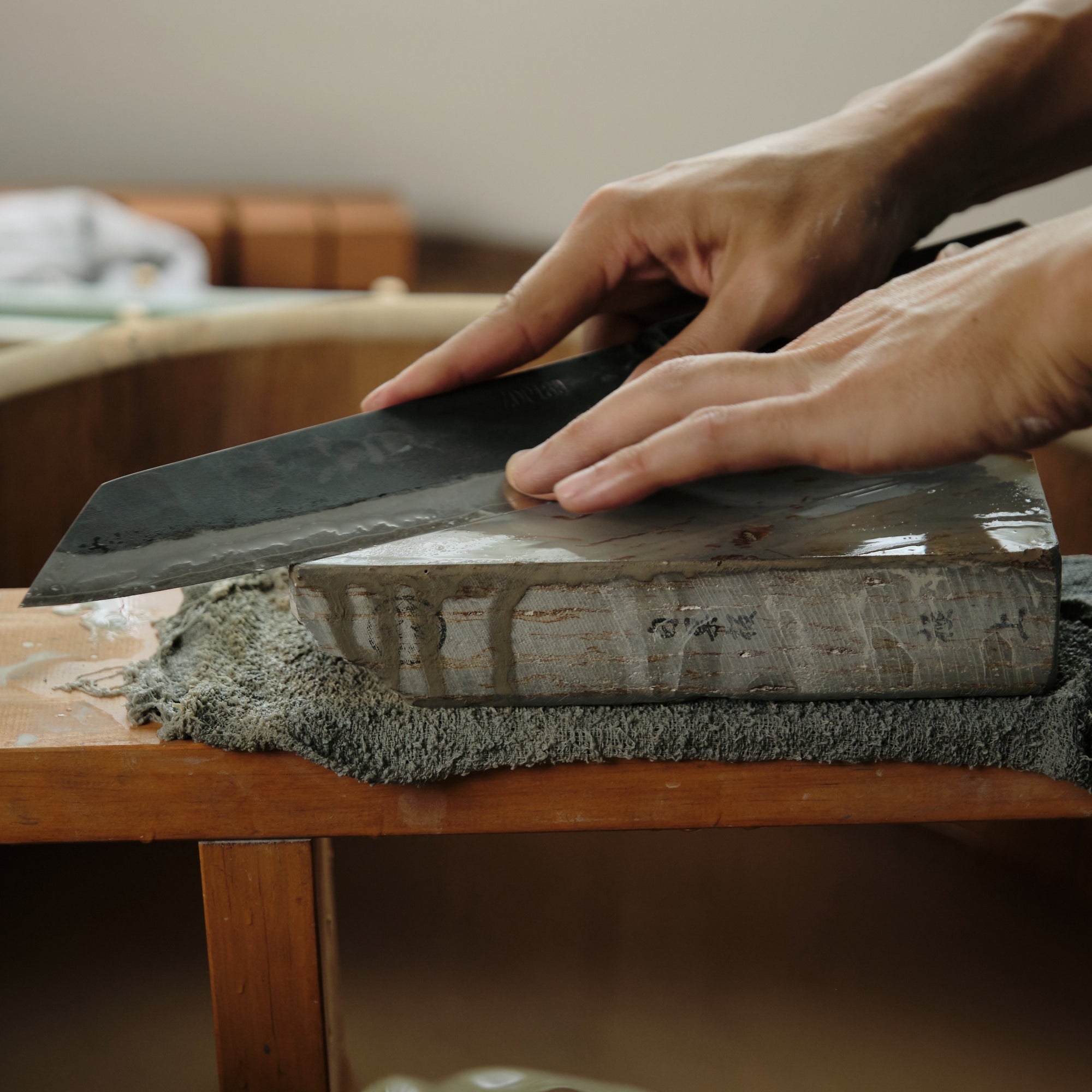 Bring Out the Best in Your Knives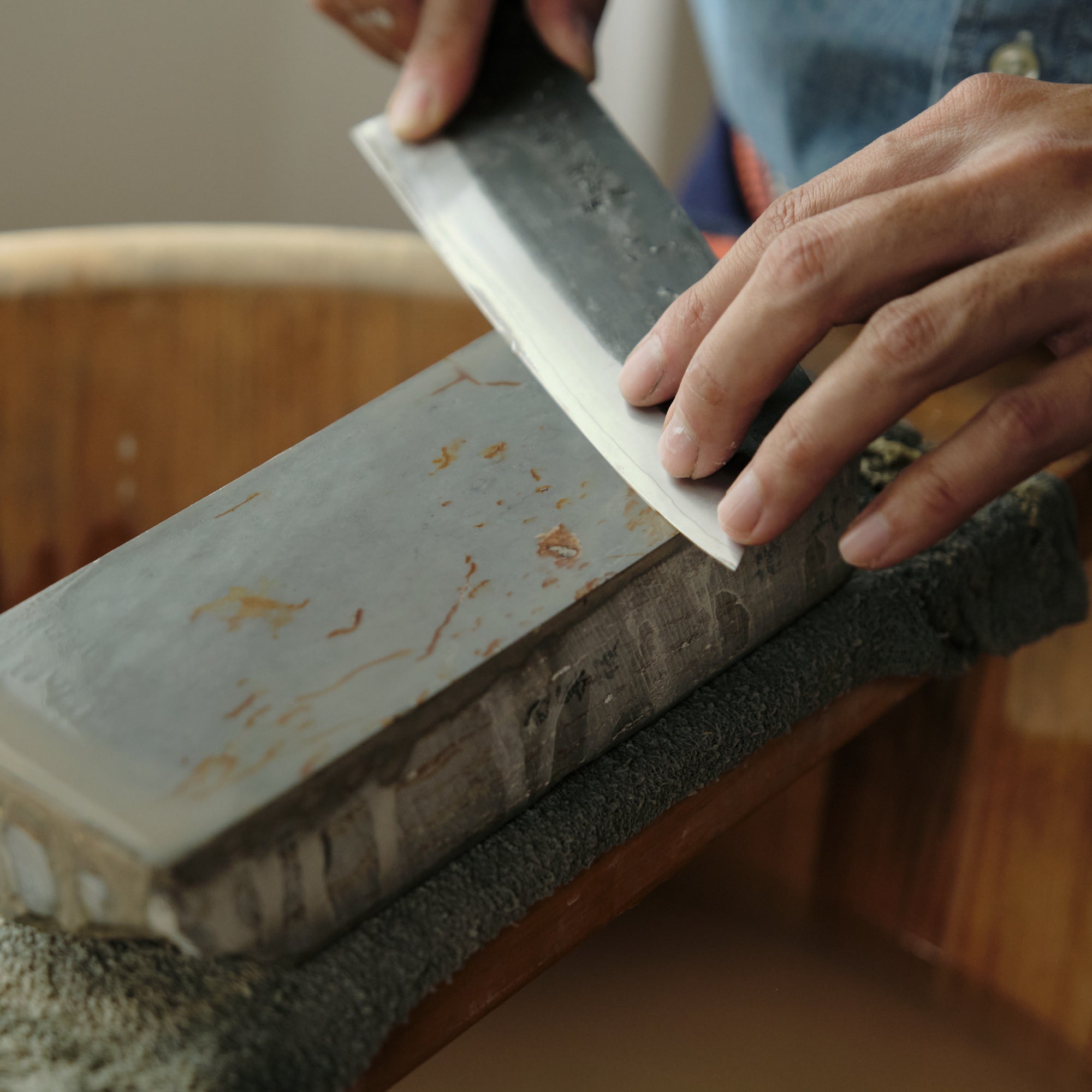 Let the Specialist Look After Your Blades
We offer
Basic Sharpening Service
Repair and Thinning Service
Service Modes
Dropoff/Visit at our locations
Mobile/Pickup at your locations
Postal
Types of Blades and Tools
Kitchen knives, serrated knives (e.g., bread knives), outdoor knives, garden tools, woodworking tools, scissors, etc.
Service Flow
Contact us and tell us your knife problems.
Send us a photo/s of your knives if possible and get a quote.
We discuss the best mode for you.
We book you in, or you post your knives to us.
We do the job and return your knives.
Payment is made when the knives are returned.
Cash, EFTPOS and bank transfer payments are available.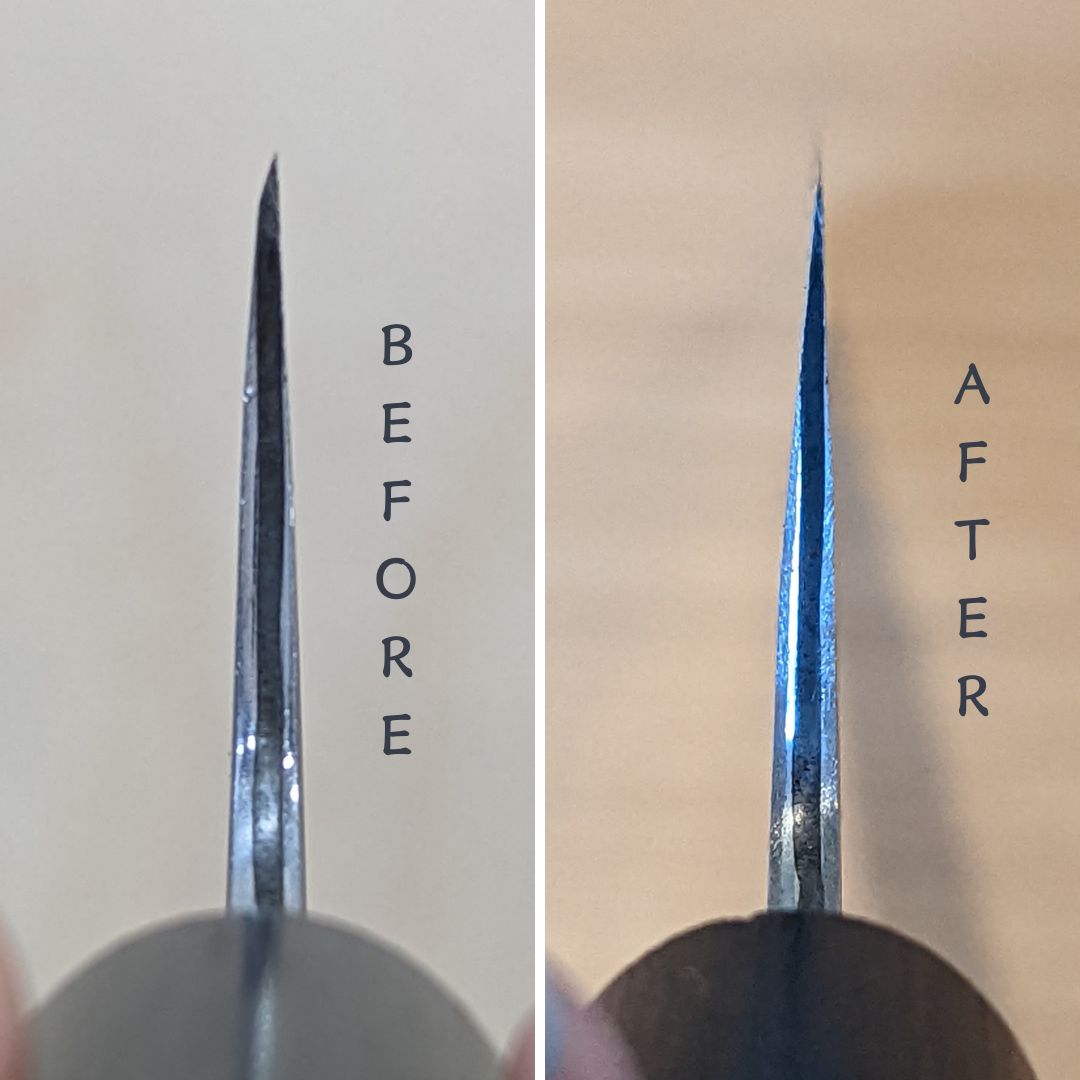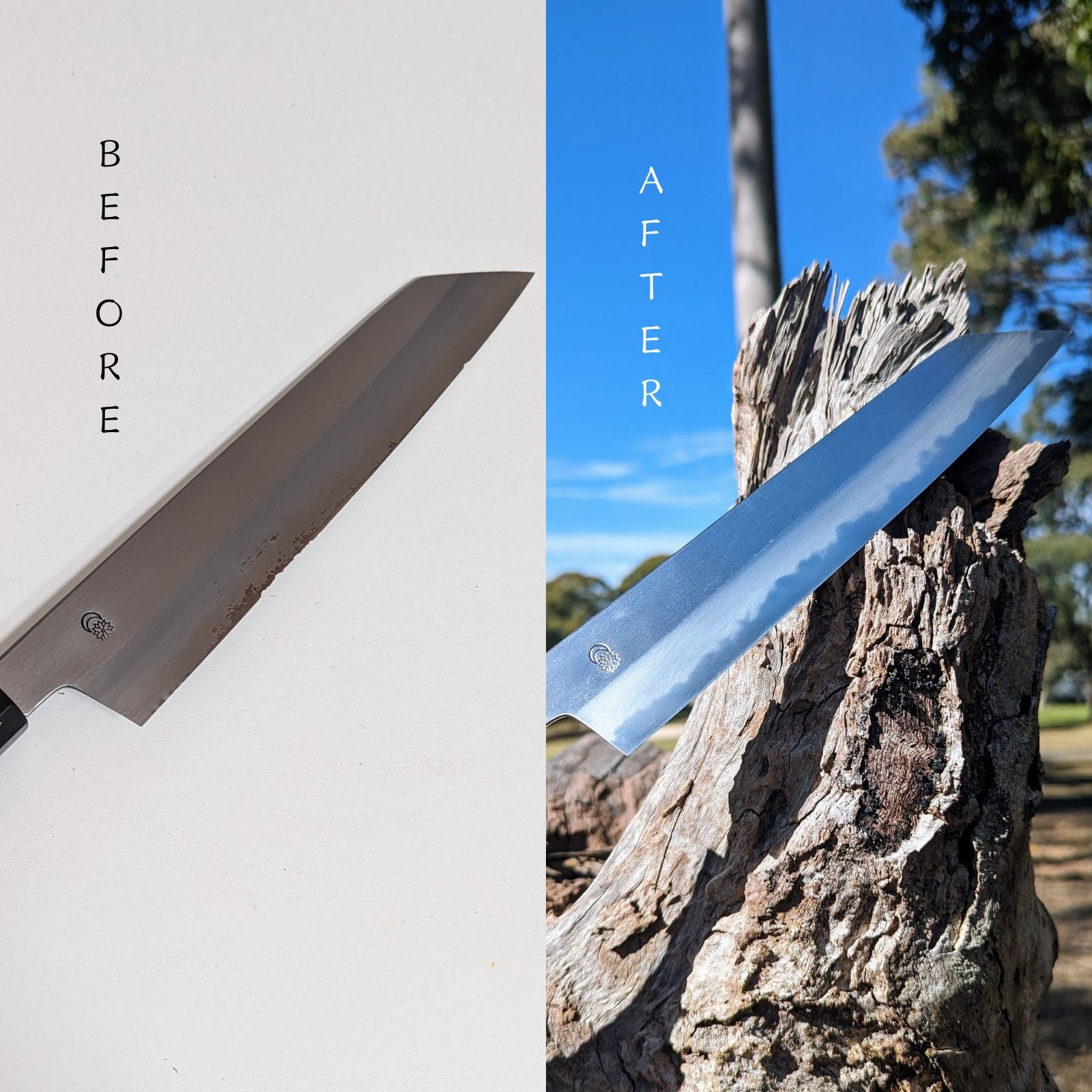 Chips removed.
Kiriha thinned.
Kasumi Finish.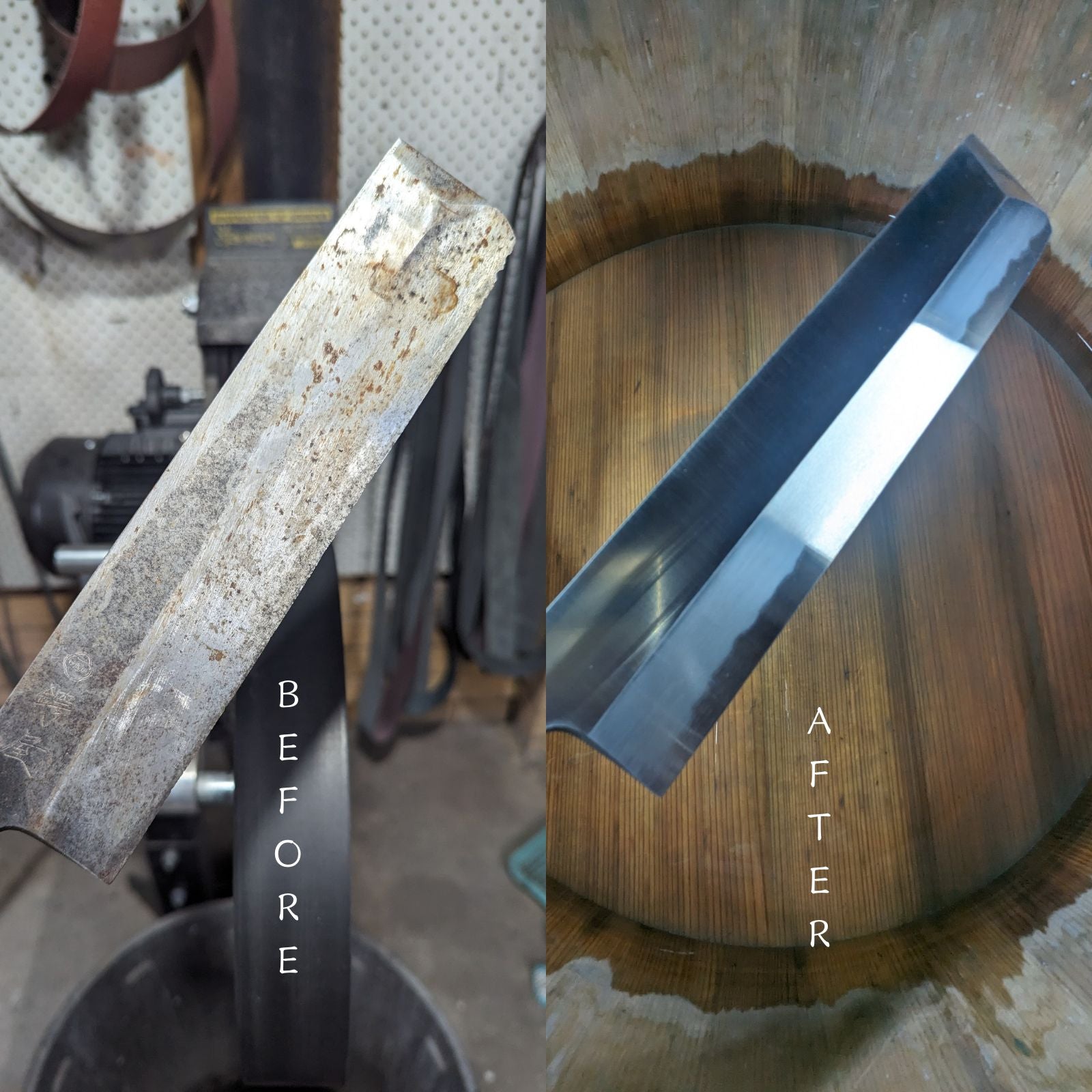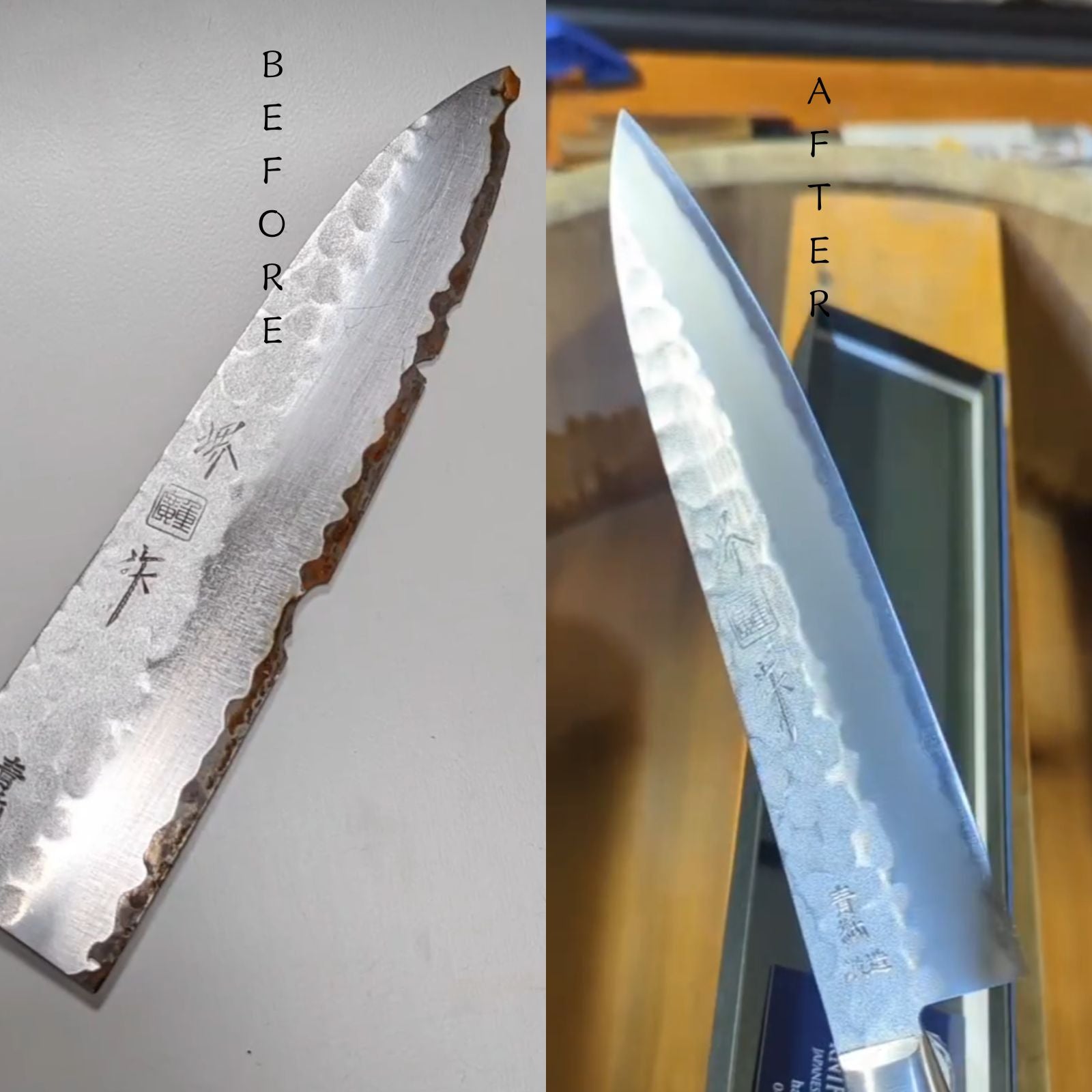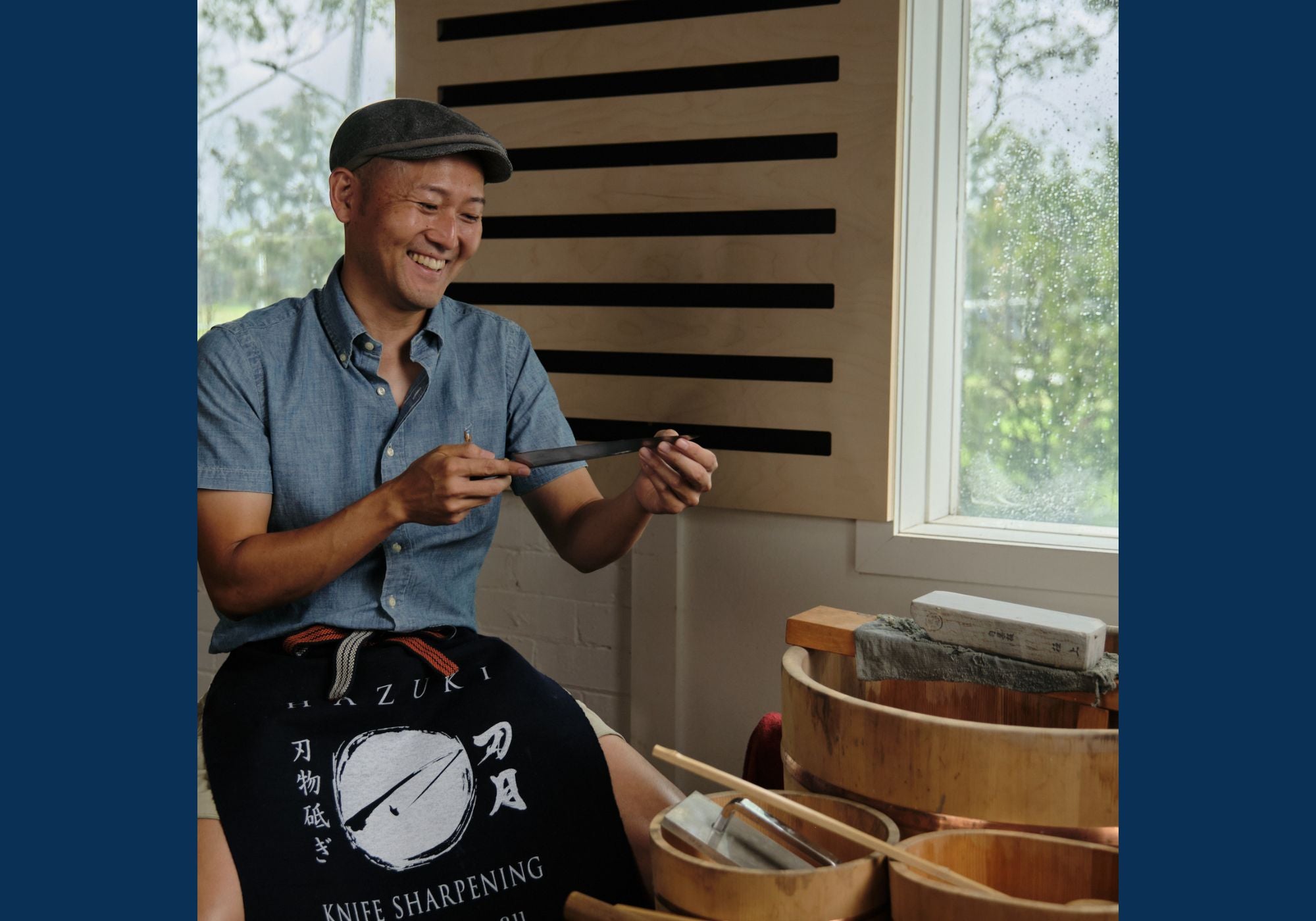 Meet the Specialist
About Nari Watabe
Not happy with the service you received?
Your Experience Matters to Us
We always aim to provide the best service, but we may not meet everyone's expectations every time. Whether it is our class, sharpening service, products, or your overall experience, if you are not happy with the service you received from us, please contact us first, so that we can discuss and arrange something for you.